Surrounding Area
MTB
MTB Centre Debabarrena
Mintxeta MTB Center provides comprehensive information of tours and services associated with the practice of mountain bike, as bike hire, changing rooms, parking... This service is complemented by personalized information seven points located in the Tourist Offices and Mutriku Deba ...
Debabarrena

BTT

Center

has

designed

routes

for both

mountain biking

experts

as

to

the enjoyment

of the entire family

.

These routes

are divided

by color

(green

, blue,

red and black

)

and

they each represent

a difficulty.

You also have

at your disposal

one of the

best accommodation deals

and

Basque

restaurants

.

Click to zoom

experience buying

natural products

in the villages

following one of

the five

gastronomic routes

.

This

Euskadi

Mountain Bike Centre

is situated in

the region of

Debabarrena

, halfway between

Gipuzkoa

and

Bizkaia

, just over

30 minutes of

the three capitals of

the

C.

A.

Basque Country

(

Vitoria

, Bilbao

and

San

Sebastian

)

.
In point Mintxeta host, and offers bicycle rental, laundry and shower area, there is a pool area, picnic area, running track and gym among other facilities.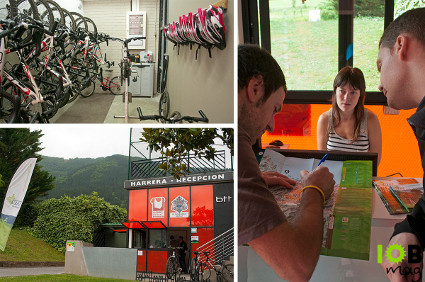 The main feature of the region are the landscapes in contrasting, yet melt, the blue of the sea and the green of its mountains in the interior, constituting a real surprise for the visitor. In the tidal zone, approach routes visitors to a succession of beaches, coves and cliffs, with geological formations (flysch) considered one of the most important and worldwide reference.
Reception Point Mintxeta
Complejo Deportivo Mintxeta (Patronato Municipal de Deportes de Elgoibar)
Barrio Azkue s/n - Elgoibar - GIPUZKOA
Teléfono: 943747356
E-mail: debabarrena@euskadibttzentroak.com
Timetable
From monday to friday: 10:00 - 21:00
Saturdays: 10:00 - 13:00, 15:00 - 19:00
Sunday and bank holyday: 10:00 - 14:00
Information on 15 routes:
How to go there from Goikola:
More info: www.debabarrenaturismo.com
Interesting information:
Interesting villages
We offer: